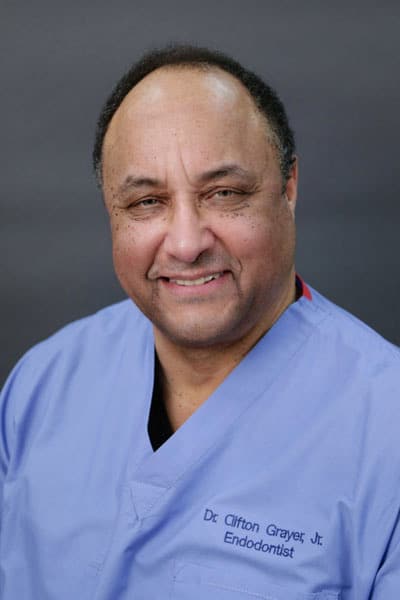 CLIFTON A. GRAYER, JR., DMD
Hello, I am Dr. Clifton Grayer.  I grew up in Brooklyn, New York and graduated from Howard University with a Bachelor's degree.  From there I received my Doctor of Dental Medicine degree and certificate in Endodontics from Tufts University School of Dental Medicine.  I have been on staff as an Associate Professor of Endodontics at Tufts University School of Dental Medicine since 1978 and was a past President of the Tufts University School of Dental Medicine Alumni Association.  During my time at Tufts, I received the Alumni Association Award for Clinical Proficiency in Endodontics.  I am a Diplomate of the American Board of Endodontics, Fellow of the International College of Dentists, and member of Omicron Kappa Upsilon Honor Society.
My most enjoyable aspect of Endodontics is the interaction with patients and the ability to alleviate pain.  The entire spectrum of Endodontics has changed in the last few years with the advent of digital radiography, ultrasonics, 3D CT scan technology, and the use of the operating microscope.  We are now moving into Regenerative Endodontics which is fascinating and challenging.
Happily married for 47 years and the proud parents of one son, we enjoy spending summers on Marthas' Vineyard, theater visits to New York City and travelling.  My favorite past times include golf and photography.
Predoctoral Education: 1967 BS, Howard University
Dental Education: 1975 DMD, Tufts University School of Dental Medicine
Postdoctoral Training: 1978 Certificate in Endodontics, Tufts University School of Dental Medicine
Primary Academic Appointment: Associate Clinical Professor of Endodontics, Tufts University School of Dental Medicine
Board Status: Diplomate, American Board of Endodontics
Awards and Honors:
Fellow, International College of Dentists
Omicron Kappa Upsilon Honor Society
Alumni Association Award for Clinical Proficiency in Endodontics, Tufts University School of Dental Medicine