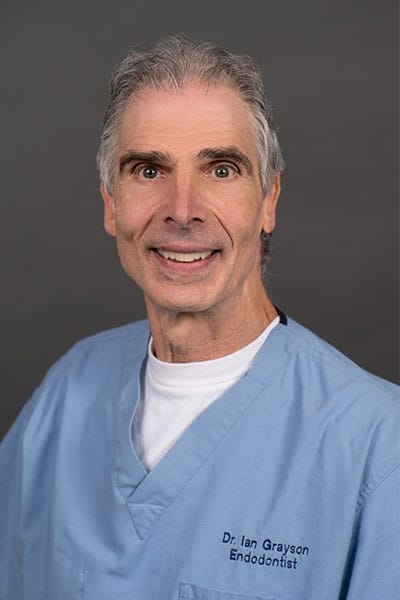 DR. IAN C. GRAYSON
I'm Dr. Ian Grayson. I was born and grew up in Toronto, Ontario, Canada. I attended the University of Toronto faculty of dentistry. Following my graduation, I completed a general practice residency at the Toronto General Hospital. From there I went into private practice for 33 years, paying particular attention to endodontics and surgery. At that point, I decided to leave private practice and pursue an academic position so I went back to school and graduated with an MMSc and specialty in endodontics from the Harvard School of Dental Medicine. I immediately became board certified in both Canada and the United States in endodontics. Currently, I hold a faculty position directing the clinical portion of the post-doctoral endodontics program at HSDM and work part-time with Limited to Endodontics.
I have been married to my beautiful wife for 30 years and have 3 children. I was a ski instructor for 10 years prior to coming to Boston so I enjoy skiing and playing squash.
I am passionate about endodontic practice. I enjoy working with patients to provide both surgical and non-surgical treatments. I am very interested in the biological basis for all the endodontic treatment we provide. Patient experience and the alleviation of pain and disease is the most important goal for every patient appointment.